The point of this update is twofold – first, to update about Hearst Castle and second to post a few pictures that I finally got around to organizing and am starting to scan. Asking for wedding pictures in this post is too much, but maybe you'll get some tonight. In the read more link are two pics of the boys before our Saturday outings.
That said, Hearst Castle was very cool. From a "big house" perspective, its the largest I've seen in the states (can you call Versailles a house? It ain't a castle, but its hardly a house, you know?), and well-designed in a relatively-modern style. I like that the house was designed and built recently, and clearly for the purpose of entertaining guests. I wish I had that capability right now, I'll tell you. Work from home, have people around when you want to have dinner and social hour? Sounds like heaven. Ahh, to be a multi-millionaire. That's pretty much the solution to everything these days, right?
Casey (who turned out to be an excellent day-trippin' partner) and I stopped in Solvang on the way home and had some dinner in the weird Dutch-style town after a little walking around, taking in the oddity of it all. I'd like to know a little more about Mid-State wineries before venturing back up that way, because it seems very spread out (unlike the dual valleys of Napa and Sonoma way up north) and I don't recognize any of the names of the vineyards. Research would save the day in this case, I think. Shame I'm sucky at it.
Don't forget to click read more below to see Russ, Kieran and Brad in the first two of a bunch of July pictures to go up in the next 24-ish hours.
Entourage moment, anyone?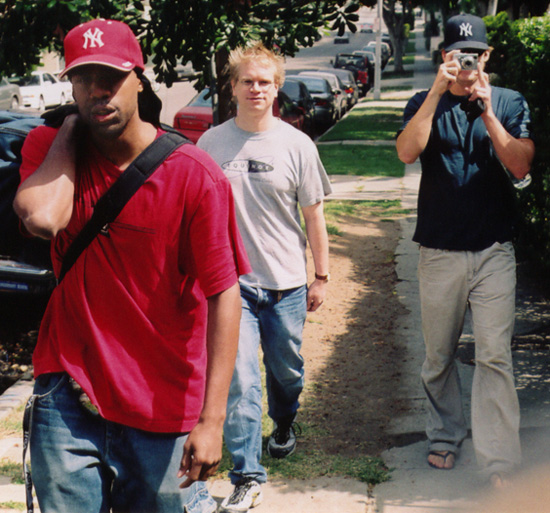 ---
I like Russ' "What are you doing, man?" look here.