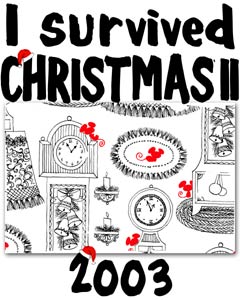 I know its been awhile since Ive posted anything more colorful than an amish jokebook, so here are a few choice pictures to make amends. Digital technology has allowed me to even get some pictures via e-mail, which is nice because Justin took a couple of really choice shots and sent them my way.
I look silly in my hat, I know, but I played Santa this year (as I tend to do) and had a good time doing it. Its become something my family lets me do to make me feel useful–they know not having a job this time of year isnt the easiest thing ever. Im wearing the t-shirt that I made, actually–heres a reproduction of the front:
They seemed to go over well, considering that I got the sizes all wrong and they were wrapped in lunch bags. Since I spent quite a bit of time on the shirts in three states, Im glad they were well-received.
My injured finger is getting better, although its still hard to bend and now hurts from any real pressure. Its hard to tell if it hurts worse now or whether Im using it more, but either way, I feel pathetic for still being hurt more than a week after a simple finger jam. More incentive to work out harder, I guess. Between that and the fact that Ive been put to shame by my cousins and siblings this break, Im in for quite a bit of pain while I attempt to better myself athletically this year.
Lastly, at least for now, time seems to be flying by so far in the new year. Its already the 5th–my appointed day for starting things up again, and, boy, are they started. Surf Secret stuff has been taken care of this AM, I met with Tommy from MWS about some changes to their website, and I have e-mails to send that will hopefully grease the wheels of the machine that may get me a job. Well see. I have to work harder at that than I have in the past, as I am hungry and poor, and my car payments need to be made.
More pictures below.