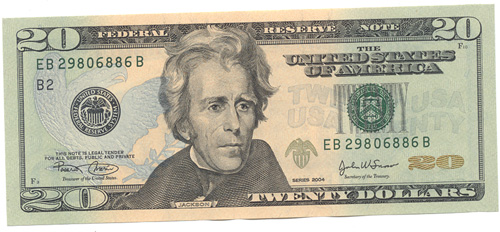 So today is the day that rent is due. Ill be paying with a paper proxy for 75 of these new bastards. The scan doesnt do it justice, but Im sure almost everyone is intimately aware of the nuances of the new $20 by now. I mean, theres a 20-foot-high ad in Times Square for these things. An ad for money. Could we get more capitalistic?
Next item – Halloween. Mikes party was surprisingly stress-free, and therefore quite a bit of fun. I hated to leave for the next thing, but only because I hadnt been to the next thing yet. Ghettotech was everything Ive grown to believe that it could be. Really really fun. Filter14 was a good venue for it, and Ill have to keep an eye out for future GT events because Im interested to know if theyre as fun without the Halloween thing getting in the mix.
Kurt is coming back up, so well probably be making a movie tomorrow, but about what, I have no idea. Id like to get everyone involved, but how has yet to be determined. If you have a good idea, post it below and I bet Ill use it. Im pretty hard up for ideas.
Im off to clean up this place and get ready for breakfast. I hear tell theres going to be some breakfast in the not-too-distant future. That would be infinitely more enjoyable if I had some clothes on. And a shower. And some money. Gotta go to the bank to deposit Andrew Jackson and get some out, too.