It's January 2012, and that seems like a really good time to upgrade my workstation.
It's been a long time since I've done a real overhaul on my computer system.  Although I did replace my video cards about 6 months ago, the rest of the system has been plugging along for a year and a half or more.  Because of some end-of-the-year corporate spending requirements, I found myself looking at computer components on the 29th of December, and a few days later some boxes showed up at my door.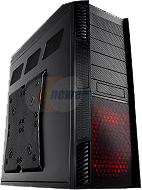 Go figure.
Anyway, what follows is a list of hardware because last time I wrote a post like this it was supremely helpful in terms of remembering what was in the box that sits next to me all day long when I needed to download drivers, troubleshoot problems or generally do something useful.   Sometimes posts like this are purely for me, and for that, I apologize. Tombstone, my old system, is still mostly running, although in a semi-gutted state, waiting to be re-purposed as something awesome, either a system in Andrew's growing empire or the hub of my still-theoretical porn empire. Dunno which yet. Maybe something yet different from that.
Anyway, after the break you'll find the components, names and some reasoning behind each piece of the puzzle.
Destroyer
I've been slowly moving towards an ocean-vessel naming convention for my whole network over the last year or so, and with the christening of Destroyer happening soon, I'm taking another big step in that direction. Next is the renaming of the wired networks that do most of the heavy lifting, data-wise (my workstation, the server, the 360, the PS3) and the wireless networks that bathe our house in cancer-waves, but I have to make some decisions on what direction to take there, so that's another post.
ASUS Crosshair V Formula
An AM3+ motherboard based on the AMD 990FX northbridge with 6Gb/s SATA, USB 3.0, 3 PCIe x16 lanes (of which I'm using 2 in non-SLI) and my first UEFI BIOS in an ATX form-factor.
AMD FX-8150 "Zambezi"
8 Discrete cores.
3.6GHz at stock configuration.
The "Bulldozer" architecture isn't the fastest chip on the planet, but in my opinion it has the most potential for growth.  Multithreading in apps is only just getting started, and as shops like Adobe get their acts together, more cores is only going to be better for your computing dollar.  Also, I've been a long supporter of AMD, and their philosophy of giving users the best bang for their buck is something I really appreciate.  To beat this chip with an Intel solution would cost me twice the already-high price I paid for this chip.  Besides, 3.6GHz should be enough for anybody, right?
Crucial 128GB SSD
I've never done an SSD build before.  SSD is breathtakingly expensive, and because of that, I feel like I've sort of skimped on the "system" portion of my drive.  I'm making an effort, however, to stop looking at hard disk space and thinking that anytime I'm more than half full is time to upgrade – a proper "system" drive doesn't expand much after the initial install madness, and if I install hogs like World of Warcraft to the SATA drive, I'll be fine.  Currently I have ~50GB free on my System drive anyway.
Corsair Vengeance RAM
Nobody really calls it RAM anymore, huh?  Anyway, 2 8GB sticks of DDR3 1600 (PC3 12800) Desktop Memory seems like a nice amount to start with.  I mean, if you're going to have overkill, you might as well go big, right?  I think I'll actually pull the trigger on 16GB more once the price comes down significantly, just to say I did it, but at $160, I've spent enough on RAM at the moment.  $10/GB isn't TOO bad.
SAPPHIRE FleX Radeon HD 6870 & SAPPHIRE FleX Radeon HD 6770
Technically these come from the old build and should therefore be in the "made the switch" section below, but they're non-original parts and were always intended to make the switch to a new system. Each is equipped with 1GB of GDDR5 memory and the 6870 supports eyefinity x5, which is pretty damn cool, even if I don't use it often.  I can turn it on with a switch (if I'm willing to do a little re-configuring when I turn it off) for playing WoW on three monitors at the same time.
Sound like fun?
It is.
Seagate 1TB SATA Drive
For my "Documents" drive, I went with a single drive this time after the headaches of my last mobo's RAID controller.  My backups have gotten a lot more sophisticated over the years and I've been better about proving my backups, too.  Also, I don't think I got a performance boost out of the thing, so I ditched it in favor of a single drive that'll be easy to replace/upgrade down the road.
Lite-On Blu-Ray burner
It was time.  25GB/disk is here, and even though I didn't do much by way of burning DVDs, I figure I might as well be able to play Blu-Ray disks in my new beastly machine.  Otherwise, I'm no better than Apple.  And besides, I now can burn my (still theoretical) epic Brownie Project adventure to Blu-Ray if I wanna.  And who doesn't want that?
Razer BlackWidow Keyboard
Ahh, the clacky keys I hear even as I type this.  No more stealth typing for me.  I haven't replaced my main keyboard in a very long time, but the old Razer (Lycosa, I think) was starting to fail (the up arrow was sticking and the glowyness had been problematic for years) and I wanted to feel more like a real programmer, especially since I'm dedicating myself to learning more programming in the immediate future.
Rosewill Thor Full-Tower Case
I have to say, Rosewill's products have really come a long way since they started.  This case feels like a premium case.  It's nice.  I haven't had a full tower in years (I was living in Brooklyn last time I had a case this size) and it feels the way my cases should have felt all along.  There are plenty of big fans for moving air and vents, drive bays and ports enough for almost anything I'd want. I had to solder a wire to the power button because it came out of the box damaged (no physical damage, just a bad solder point) and I learned more about soldering in that five minutes than I'd ever learned up until that point.
Tombstone Components that have made the switch
Seagate Barracuda 1TB SATA Drive (was my "Documents" Drive)
Lite-On DVD Multi Recorder (why get rid of it?)
Rosewill card reader (I use it all the time)
RaidMax 850SS 850-watt Modular Power Supply (I can get away with a much smaller PSU in the gutted version of Tombstone, so why replace a well-working good thing?)
So, this whole thing gets a WEI score of 7.6 limited by the Processor and RAM, interestingly.  The processor doesn't surprise me, given the fact that Bulldozer isn't the fastest thing on the block, but I am a little surprised that the RAM doesn't max out the WEI.  I guess there is faster RAM out there, but I'd have thought we'd be looking at the video card(s) as the bottleneck.
That's where we are.  If you've read all the way to the bottom of this post, I'm duly impressed.  No idea why you'd be here, but thanks for coming along for the ride.